County Council claims it's "working on" the problem and "needs more time." A coalition led by Black Lives Matter has gotten ahead of the curve and presented this simple six-point solution.
Bring all the Cuyahoga County jails into compliance with the "Minimum Standards for Jails in Ohio."
Provide full access to healthcare services.
Carry out swift implementation of bail reform.
End the transfer of children to adult correctional facilities.
Begin systematic data collection, reporting, and transparency.
Set up independent oversight.
County Executive Armond Budish has taken no action on this. Sheriff Clifford Pinkney has taken no action on this. County Council's committee on Public Safety and Justice Affairs heard a brief statement from a Ms. Lee Ann Layne on the problems at the jail on December 4, 2018, with this result: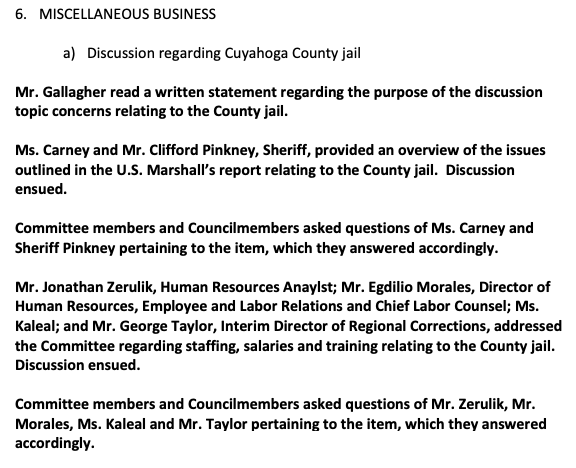 Answered accordingly! Accordingly would mean radically increasing pay levels and staffing at the jail, specifically increasing the number of nurses and corrections officers. Accordingly would mean instituting bail and sentencing reform, which could reduce the jail population by up to 60% considering the proportion of people who are incarcerated for nonviolent offenses and who haven't been found guilty of anything.
This is not difficult. The county government is making it difficult.